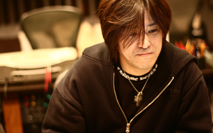 Recording and Mixing Engineer

HIDEKI KODERA
Kodera was born in 1971 in Okayama prefecture.
He belongs to VERYGOO since September 2011.
He participated in Masa Takumi "Sakura" as a mixing engineer, and it won the 65th Annual GRAMMY Award for best global music album.
His works e.g.) SPY×FAMILY, ONE PUNCH MAN, etc.
Fukuhara was born in 1982 in Tokyo.
Fukuhara started his career as an engineer in a studio and has been with VERYGOO since October 2011.
Fukuhara specializes in band sounds based on acoustic musical instruments, and has a reputation for vocal recordings capturing the mood and atmosphere.
Fukuhara has made a lot of work on live recordings.
In 2008, Nakamura began his career as an engineer at a recording studio.
Taking advantage of his extensive experience in rhythm recording, Nakamura specializes in recording in bands.
Nakamura also cherishes conversations on the production site and makes recordings and mixes suitable for the sound.
Nakamura always aims to engineer music objectively and speedily so that artists and musicians can perform best.